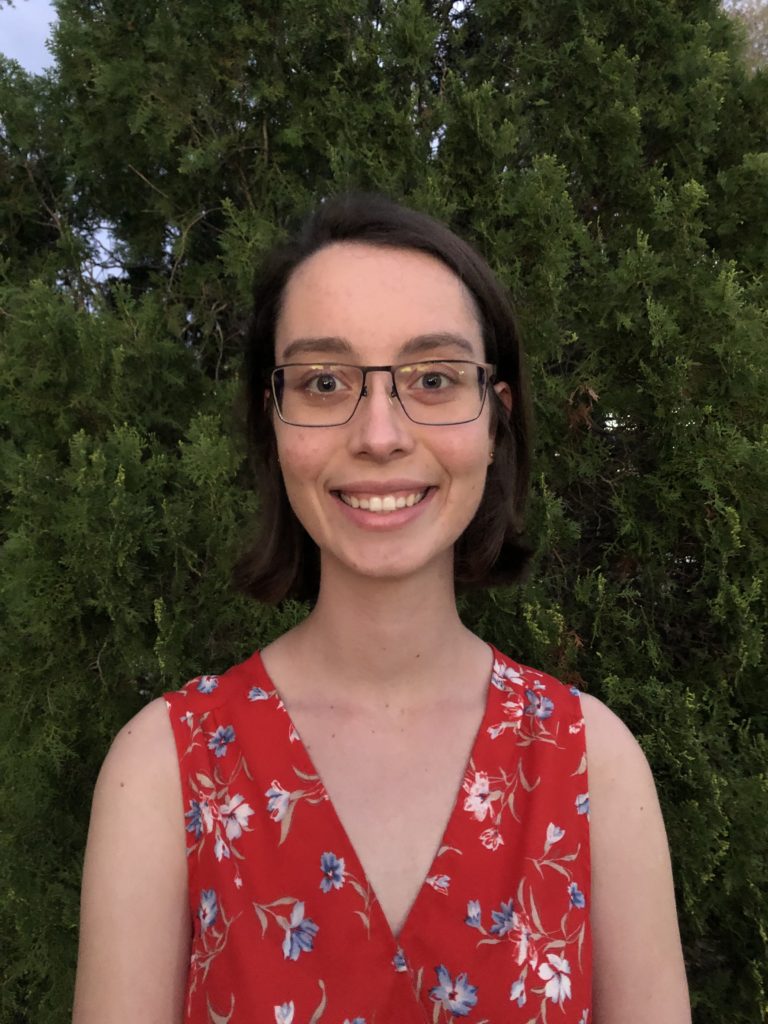 FALL 2021 UF REAL FLORIDA LANDSCAPES DESIGN CHALLENGE
Before this project, I had just been exposed to Florida-friendly landscaping™ principles. Native plants were the "better option when possible" was all I knew. It really helped, being forced to look at native options and dive into it. It's really cool to see that natives connect to a place. [Now] I definitely know that good planting design really depends on location and context.

Ashley Pike, Fall 2021 University of Florida Real Florida Landscapes Design Challenge First Place Award Winner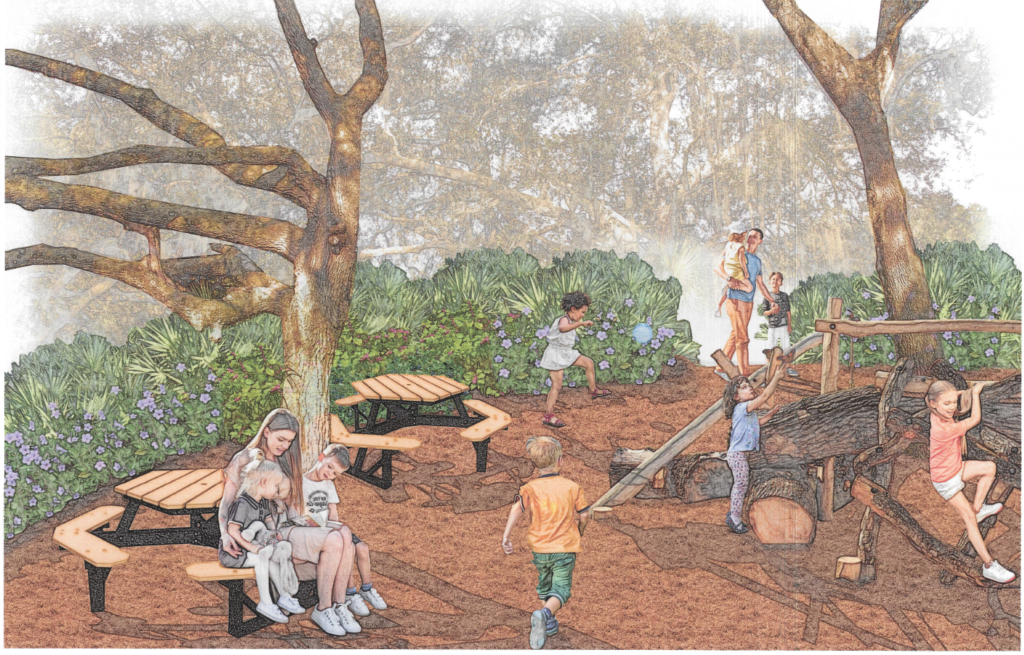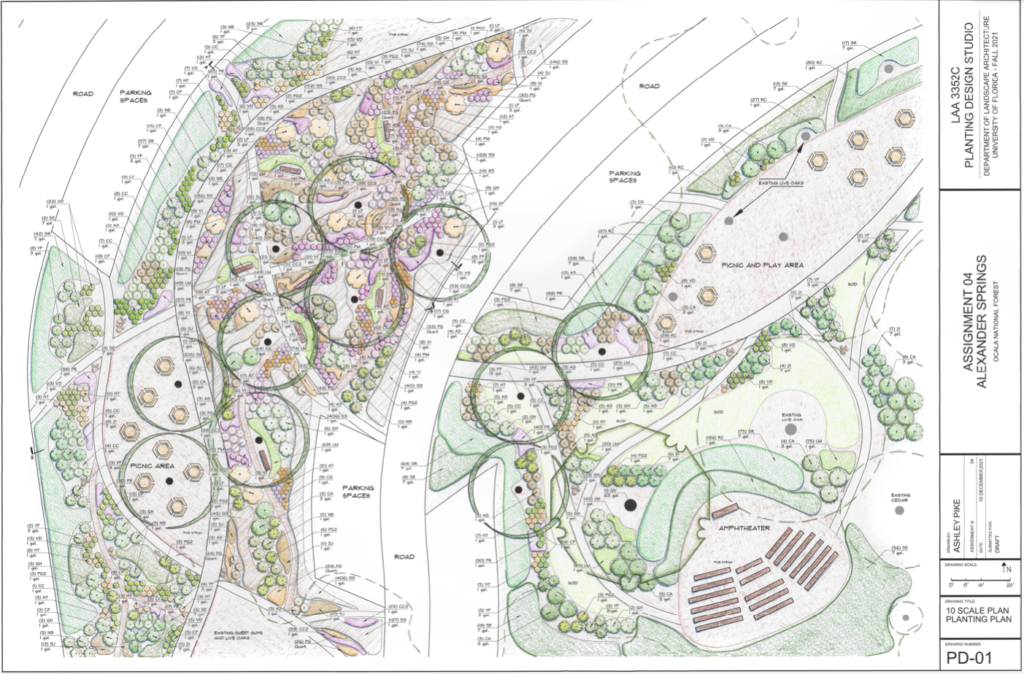 The University of Florida College of Design, Construction and Planning (UFDCP) has been assisting the U.S. National Forest Service with research on landscape strategies to restore the freshwater spring ecosystems of the Ocala National Forest. Florida's springs are unique, important natural habitat, and a window into the health of the state's groundwater. Spring water flow has declined as has water quality, and increased recreational demands are creating other environmental problems.

For the 2021 Planting Design Studio, UFDCP chose Alexander Springs, a popular swimming hole in the forest, as the site for the class native planting project. Students worked in teams to develop conceptual master plans and then individually on planting plans for the entry drive, parking lot and spring approach where people enter the water. FANN member native plant professionals volunteered to join students on their site visit, provide two native plant nursery tours, review preliminary plans in person and consult with faculty, students and forest service staff at a final presentation of twenty different planting designs.

Fifteen students submitted for competitive jurying. Judges selected Ashley Pike's parking lot design as the first place winner.
"Home run!! … If I could, I would give this submission a nearly perfect score!"

One of many enthusiastic comments from the judges, all active professionals in the native plant industry
The judges were very impressed with the habitat appropriateness and diversity of the plant selections as well as the beautifully executed plan documentation. The plan considers the needs of insects and birds and for someone new to native plants, demonstrates a surprising understanding of the natural habitat and the plants that belong there.

Ashley's design emphasizes spaces for families to explore and enjoy nature both before and after visiting the spring. This supports an experience that from arrival through departure, is ecologically inspired and informed. Small walking paths, picnic and playground areas are all designed to expose visitors to elements of the natural sandhill and scrub habitats that surround the spring. Natural playground elements are in keeping with this national forest setting.

A Florida native herself, Ashley hails from Lake Mary, Florida, where she loves spending time in the great outdoors – many summer family vacations are spent at national parks. A big art fan, she also enjoys visiting museum and art festivals.

The scale of the Alexander Springs project initially seemed overwhelming, but she enjoyed working with her team to address the main sections (entry, parking, spring approach). This was her first experience with native plants but, she says, a very enjoyable experience. She really appreciated the opportunity to work on a place of real significance and an interdisciplinary project that involved ecologists, archeologist, hydrologists and landscape experts.

Ashley is on track to graduate with her bachelors degree in landscape architecture in spring 2024. She discovered the field of landscape architecture during the process of applying to colleges and looking through their catalogs. She "did a little googling" and decided to try it [landscape architecture.] After just a few classes, Ashley was convinced that the program's combination of art and science would be a good use of her skills. Ultimately, though, she would like to not get stuck inside an office [drawing plans on a computer.] She wants to get out, meet people and be part of an ecological community where she can serve both people and nature.

Foundation and FANN volunteers are so grateful to have the opportunity to meet and encourage the Ashley Pikes of this world, and her fellow students. Very close runner ups with high quality plans as well, were, in order, Sal Stephens' entry drive design and Sierra Palmer's design for the approach to the spring. The University of Florida is producing some great future landscape architects who will, with your help and ours, be using a lot more native plants.
Since 2018, the Native Plant Horticulture Foundation has partnered with UFDCP and FANN to enhance native plant education through their Planting Design Studio course required of all students majoring in landscape architecture. The foundation connects faculty and students with experienced native plant professionals who review and advise on student plant selections for the class project, consulting during site visits and on preliminary plans. Students usually visit at least one native plant nursery as well. Students have the option of submitting their final work for jurying and award by a panel of native plant experts.