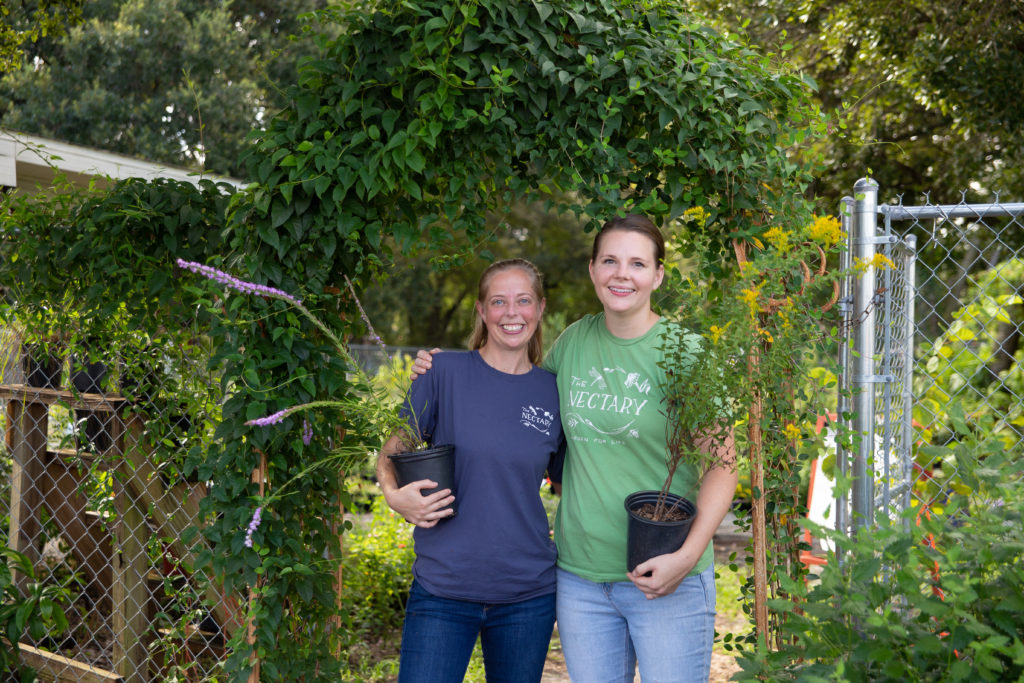 Bringing native plants to an urban downtown
Women-owned native plant nursery starts up on a former used car lot in Central Florida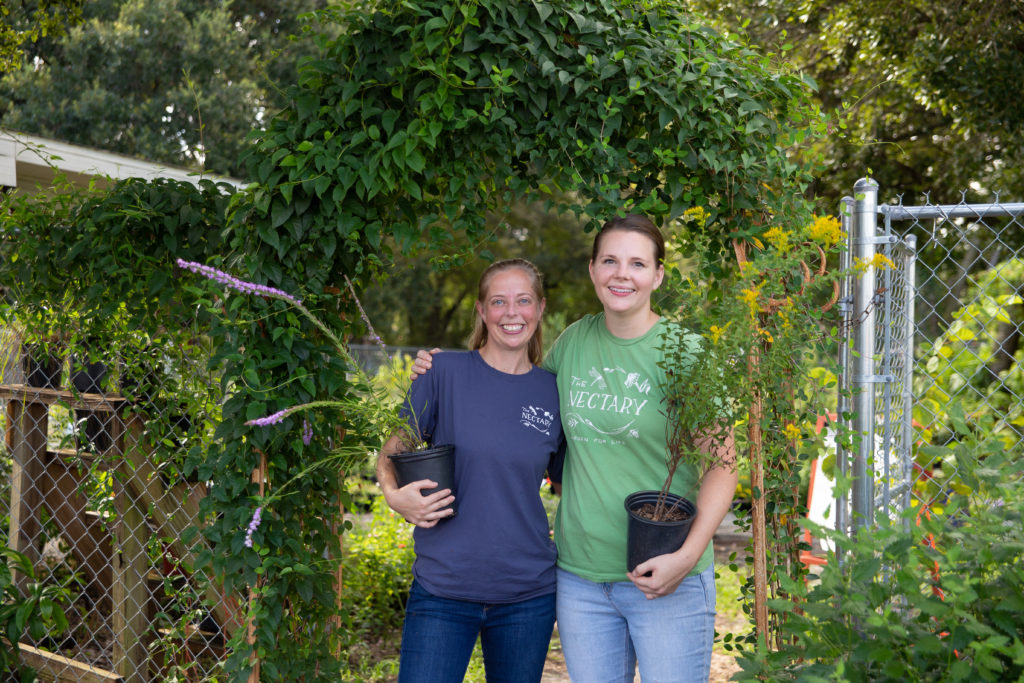 Auto sale and repair shops dominate the East Main Street district in downtown Lakeland, Florida. But a different type of business has transformed one former car lot into an urban green oasis. Visitors stop after spotting the large monarch butterfly mural on the front face of a small building and then enter through a dense trellis of skyblue clustervine and coral honeysuckle. Sprawling live oaks provide canopy and pollinators fly about, visiting Florida native plants waiting for their new homes. "The Nectary" is a perfect name for this women-owned urban nursery deliberately located in the heart of town.
Michelle Sylvester and Kathryn Adeney, owners of The Nectary, both have backgrounds in environmental sciences and became involved with native plants in ways common to others in the field. With a growing interest in native plants for her newly purchased home, Michelle started going to Florida Native Plant Society (FNPS) events with her husband (so he could help carry native plants back to the car).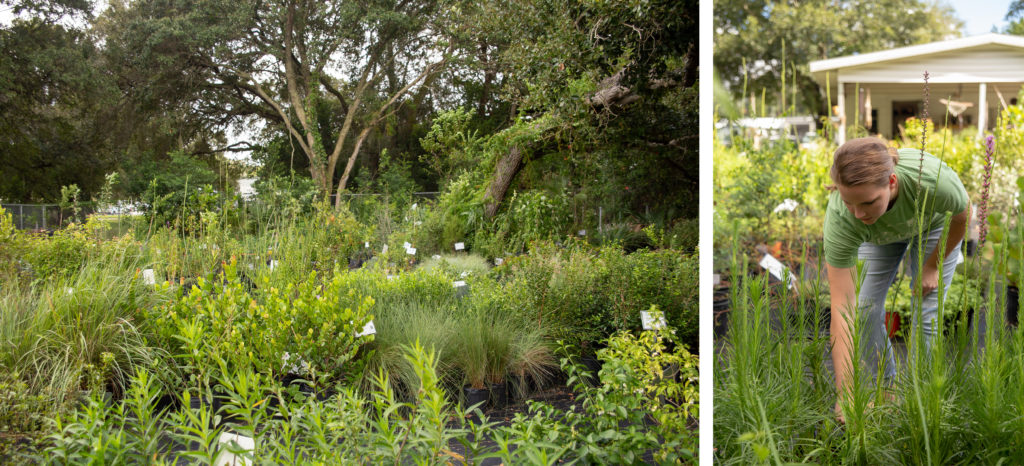 Along with becoming active with her community through FNPS, she was also seeing more and more stories coming out through various news sources about the importance of native plants. "But here in Lakeland, I'd have to drive a minimum of 45 minutes to find any native plants. I began thinking about opening a nursery to make natives more accessible in my community – so that we don't have to settle for what's available at Home Depot."

Simultaneously, Kathryn was also figuring out how to incorporate native plants into her own yard after learning about them while living on the other side of the United States. "When I was in Seattle for graduate school… I experienced nature shock instead of culture shock – unlike in my home state of Florida, no one in Washington prized the lawn. Wildflowers are valued in Washington [state]. Working with native plants is valued. Irrigation isn't often used. I was influenced by my neighbors and learned from them. My aesthetics shifted." So when she moved back to Florida, Kathryn was determined to apply the values she learned on the West Coast. But she found herself running into the same issue Michelle was facing – she had to drive far (with four kids in tow) to access a variety of natives. "I felt like I had to throw my hands up and choose what was available, or go through great effort to put natives in my yard."
When Michelle and Kathryn finally crossed paths, they saw an opportunity. Michelle's dream of opening a nursery was still just a dream because she wasn't confident in the logistical, business side of operation. But this was Kathryn's strong suit. "Her strengths are my weaknesses, her weaknesses are my strengths," Michelle said. Kathryn added: "We were at a good time in our lives to take a little risk… so we decided that the Lakeland downtown farmers' market would be a low risk entry point."
So, Saturday mornings at 8:00 am, Kathryn and Michelle were bringing in wildflowers, native grasses in bloom, and other eye-catching, native Florida flora to the market. The positive response from the community was overwhelming. "People kept showing up saying, 'we were waiting for this.' We were able to connect with others and teach them what native plants even were," Kathryn said. The market quickly became too small a footprint, and the duo started looking for larger spaces – with an set-in-stone decision that the space had to be urban so that it was accessible. "The zoning board kept saying we needed to look farther out where zoning for agriculture was" Michelle recounted, "and we kept saying NO – we want to be an urban nursery, an accessible nursery."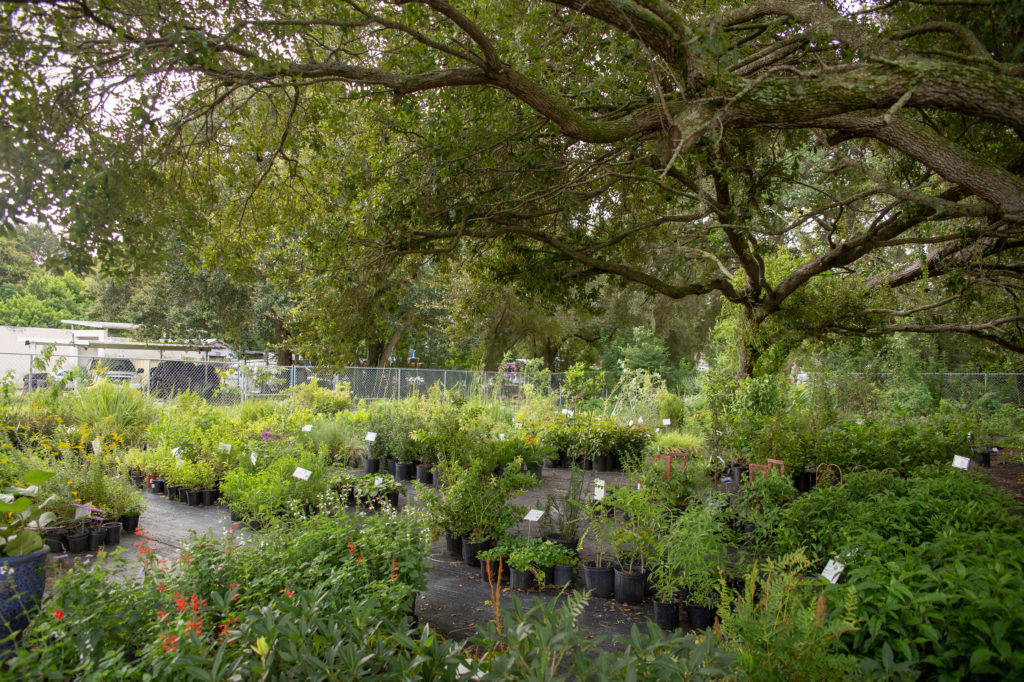 In their search, they found that old, used car lots presented some pretty optimal key features: zoning, a big outdoor space, a small building and a central location. Kathryn, with a big smile on her face, clearly remembered finding the property for her and Michelle's young business. "Everything fell into place when we found this spot. Most of the property owners, when we told them what we were doing, would say 'You want to do WHAT?' But our current landlord quickly said, 'Sure!' And so we just … did it, basically. We took a leap and set up shop."
The property was barren when they first moved in. The ground was compacted and weeds popped up through the dirt and concrete. When they started bringing in plants, there was a pronounced effect on the nature of the space – the "dead" lot transformed into an urban oasis for wildlife and pollinators. Local Lakeland residents have come to know the nursery as a secret garden amongst the car dealerships and surprisingly, a quiet place to escape and watch butterflies, bees, and flowers sway in the breeze.
The contrast between neighboring lots and theirs makes it that much easier to educate customers about the benefits of natives in the landscape. Kathryn noted that "It's easier to say 'look, your neighbors might not be doing what you're doing, but look at how much of an impact you can have on your little slice of land' while pointing out that at our nursery, newly arrived plants still in pots are already providing ecosystem services." Michelle added, "We encourage people to start small – take one plant out, and put one native in – so it's not overwhelming. Then after doing that a couple times, maybe don't fertilize… don't water this zone of your yard. See what happens. Pay attention. What's growing well? What's reseeding?"
Kathryn also brought up a common thought many Floridians share: admitting that she grew up thinking that Florida doesn't have seasons. "I always yearned to live where there were fall colors. I learned, watching native plants and natural ecosystems more closely, that we do have seasonal variances. But many people garden with these non-natives that always look a certain way. You can come to appreciate Florida's seasons by watching native plant cycles."
Michelle and Kathryn are doing more than encouraging landscaping with natives. They want people to get outside in their yards and use their senses to see, touch and hear. They understand that it's difficult for homeowners to translate what they might see in natural ecosystems into their yards and believe that education can bridge the gap. "People come to their taste level with what they've been exposed to" Kathryn explained, "and people come to us with pictures of landscapes and say that's what they want." The more native landscapes there are that serve as examples, the more people can see natives as beautiful alternatives to the generic plant palette in the area.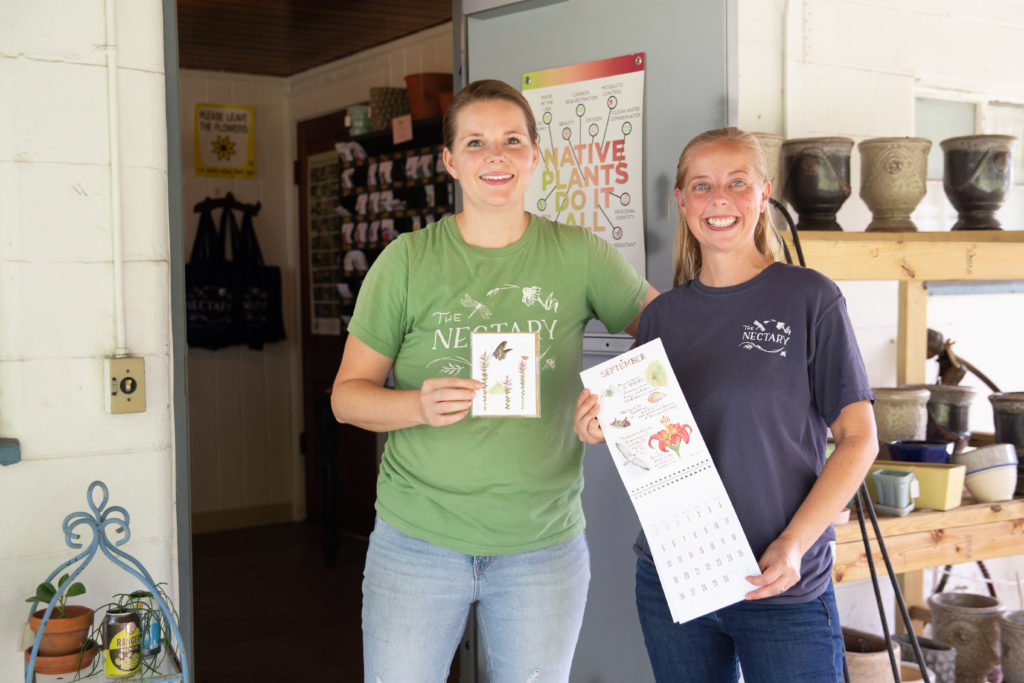 Despite expected hurdles and the impact of COVID-19, the duo has been happy with The Nectary's progress, and they hope that more small, native urban nurseries pop up around Florida. "Everyone should be able to live within 30 minutes of a native plant selection for sale." Kathryn noted, "and if someone wants to start their own business, you have to go into it being flexible. We have to have a great relationship to be in this together. And we're so thankful we have each other, and trust each other. It's not a one man… or in our case, a one woman show."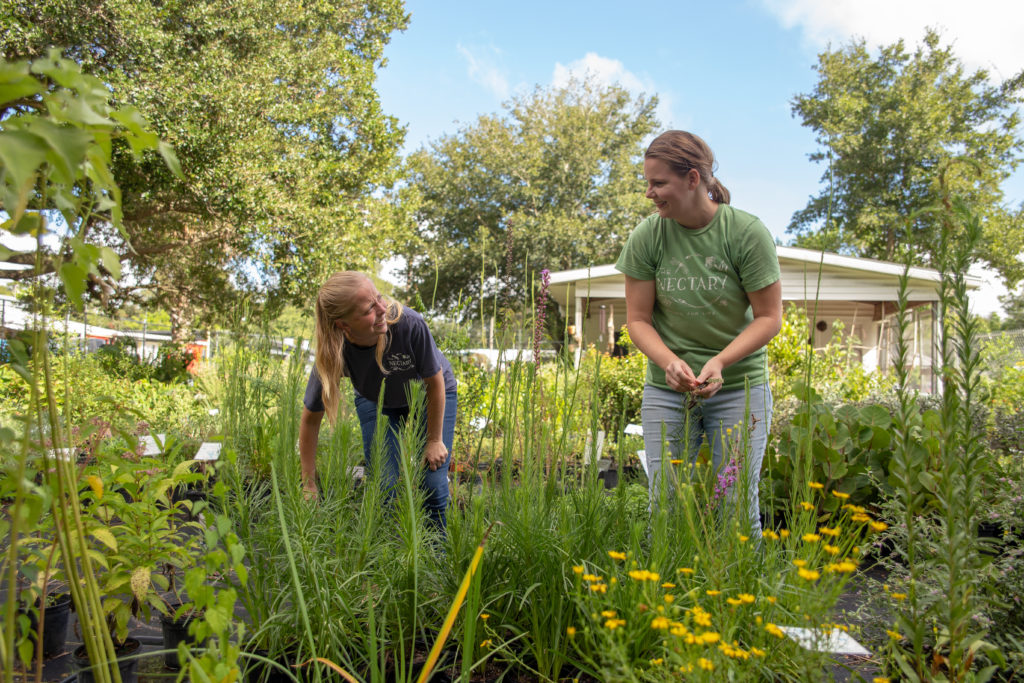 Kathryn and Michelle are great examples of "career switchers," in this case, following their passion to create a new business that makes native plants more available to their community. If you're a potential career switcher, get in touch with us and let us know of your interest. We're interested in you, and connecting you with the people and expertise you'll need to succeed, whether it's working for yourself or someone else.